Interview mit Chris Caffery
09. März 2005: "Was ist los im Hause Savatage?" Diese Frage beschäftigt seit Jahren die Fans der amerikanischen Legende - viel zu lange ist es still gewesen um Savatage. SACRED METAL nutzte (dank hervorragender Unterstützung von Angela Durst - danke nochmal!) die Gelegenheit, um ganz aktuell Chris Caffery zur derzeitigen Lage zu befragen. Damit nicht die geringste Gefahr der Verfälschung besteht, lasse ich das Interview im absolut wortgetreuen O-Ton. Here we go:
SACRED METAL: Hey Chris, I hope everything is alright? Did you play any guitar today?
CHRIS CAFFERY: Thanks for the interview...actually I am away from home for the weekend. This
is my last time before I begin band rehearsals to get some quiet. So, I am doing a little business, but did not bring a guitar. I may play some songs with a friend's band later at their show locally.
SACRED METAL: When someone would ask for whom or which band you actually play the guitar – what would be your answer?
CHRIS CAFFERY: I for many years have answered that question as Savatage...but as we all know
the band had not been too busy lately. So...I answer it like this. I play guitar in Savatage, I also play guitar and M/C for The Trans-Siberian Orchestra.
I just released my first solo CD's and will be on tour with my own band playing and singing for the first time ever very soon.
SACRED METAL: Savatage is soon celebrating their 25th birthday. In some interview one year ago, Jon said that the band is planning some special releases for this event. Can you tell us more?
CHRIS CAFFERY: We are planning lots of things. I hear of CD, DVD, DVD with old footage, DVD with new anniversary concert. I suppose when I start to see actual print add release dates we can say for sure when and what will be out!

SACRED METAL: "Savatage" is a good keyword: I'm really afraid that this band is dying slowly and will never be awaken again. Jon told the German readers in a recent interview that the band is currently "on hold" and that he does not know what and when a new record can be made. What is your current appraisal of this situation?
CHRIS CAFFERY: This "Hold" that Jon speaks of is why I did my solo CD. Jeff Plate and I sat for years waiting for Savatage to do a CD. Never for one minute did I put something in front of Savatage as priority. I did what I had to do because the band put out 1 CD in what is now 8 years. I love Savatage and would love to see a new CD. It has just been so long. It has to be special or the fans, this includes myself...will be disappointed. I have said it a million times, I would
not be where I am without Savatage, but Savatage has to want to be Savatage for things to go again! Time will tell!

SACRED METAL: Paul O'Neill, too, has said something about the future of the band: He is quoted that there is a whole new record written, but the only problem is to get all the musicians that are involved in the band, together into the studio. Come on – I can't believe that. You and Jon put out a solo record, Paul has TSO – it couldn't be that hard to record THE next record of a Metal legend!
CHRIS CAFFERY: I believe Jon and Paul are the only ones who can pull the lever to start this machine. I would do a CD, tour, strip naked and paint the logo on my back and run through the streets of Germany tomorrow. I would play in front of 6 people in a coffee shop, 60,000 people at a festival. Every venue in between. I would play for pizza. It has nothing to do with money with me. So, I really do not have the answers as to why Savatage is not in the studio.

SACRED METAL: For me, Jon Oliva is the guy who has always believed in Savatage. What is your opinion about the Mountainking right now? In what condition is he right now?
CHRIS CAFFERY: I believe that Jon believes in Savatage. In an essence once Criss passed away
he is Savatage. Condition? I think he seems very happy. He is a metal legend. He has a lot to be proud of and I as Savatage again...If I was asked if I am 100% happy with where Savatage sits right now the answer would be a no. But
once again I would not be where I am without Jon and Savatage so when he is ready for the band to play again I will be there and proud to be a part of it.

SACRED METAL: Did you already hear some of the new songs for Savatage Paul talked about?
CHRIS CAFFERY: A few I have written with Jon and Paul, so I have heard them...a few I have
heard from Jon, some of those wound up on his Pain CD. There are still a lot that Jon has left and we are always writing new stuff. Material has never been an issue with Savatage. We always have a lot of music ready to be recorded. It
is just a matter of what songs wind up making the CD's!

SACRED METAL: Do you think it will ever happen again that we will get a Savatage record with not so much input by Paul, but by Jon and you? In other words: a METAL CRUSHER??
CHRIS CAFFERY: Paul has been basically a member of Savatage since the Gutter era...he became the full time lyricist for Streets. As much as I think some fans would love a full metal crusher I feel many would miss the elements Paul has
brought in too. The next Savatage CD I am hoping...can be an honest mixture of all of the things people love about the band. Jon and I are hoping to do another Butcher CD, this may be what you are talking about as far as the full
metal crusher. Or...Jon and I have talked about a final Savatage CD one day with me, him, Johnny and Wacholz...a real personal tribute to ourselves, the fans and Criss as a finale. You must remember that Paul produced Mt. King, in my opinion one of the greatest METAL CD's of all time as a follow up to Fight For the Rock...he does have a very good sense of what is heavy, there are just times where certain fans seem to want things to remain one certain way. Paul
tries to expand what we do musically. I think it is healthy. The only thing that has been unhealthy for Savatage is the amout of time it takes for us to get new CD's out! People expect too much and I feel this would not be the case if we would do one every year or 2.

SACRED METAL: Do you feel comfortable playing with TSO? I know that you can make a lot of money there – but is it really what you want to do?
CHRIS CAFFERY: I enjoy playing with TSO. I have been there since day one, so I get a good
sense of achievement there. We sold out Madison Square Garden and I am the frontman of the band. Sometimes, I do miss the metal fans and tours when I am out there...but it is something special and completely different. As far as what I
want to do....I want to play music for a living and I am able to do this...as everything I stated in the answer to #1. I am thankful for this.

SACRED METAL: If you had to describe recent Savatage with not more than five adjectives – what would those be?
CHRIS CAFFERY: Not sure if you mean the band that has toured or the one that has not.... One adjective would have to be... Tired...obviously not BUSY! ;)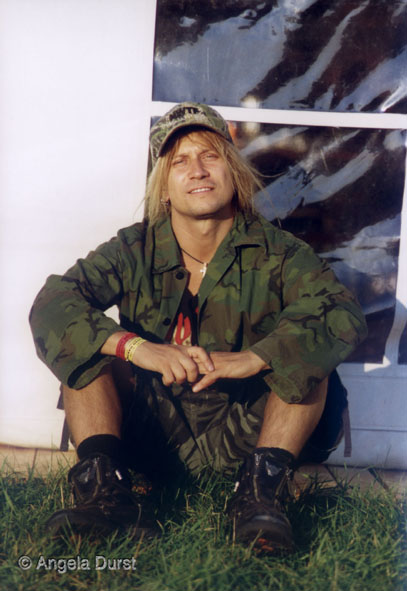 Michael Kohsiek / www.sacredmetal.de
Angela Durst